EMS 2022
Where Do We Go From Here?
August 1-5, 2022

The table below summarizes registration fees:
Early Bird Fees
(Before June 10)
Standard Fees

In-person Meeting1

Full Conference
Daily

Full Conference

Daily

Attendee

$545
$260

$610

$315

Participant2

$495
$220

$550

$255

Student

$295
$105

$345

$155

Friday Only
$85
$110

Late Fee (after July 13)

$75

$75

Recordings Only3

Attendee
$545
$260

$610

$315

TNI member
$495
$220

$550

$255

Student
$295
$105

$345

$155

Friday Only
$85

$110
You may register now using our on-line registration system.
You may also register by completing the registration form (PDF) and sending to:
The NELAC Institute
PO Box 2439
Weatherford, TX 76086-2439
FAX: 817-423-6777
Email: [email protected]
Notes:
1. Registration includes participation in all meetings, all printed materials, continental breakfasts, lunches on Tuesday and Thursday, and access to the Symposium Portal until October 31, 2022.
2 A Participant is an NEMC Session Chair, a speaker at NEMC, or a member of a TNI Committee or Board.
3 Registration includes access to the Symposium Portal for viewing recordings of all meetings between August 10 and October 31, 2022.

CANCELLATION: If you cannot attend, notification must be received by July 13. You may either send a substitute or receive a refund, less a $75 administrative fee.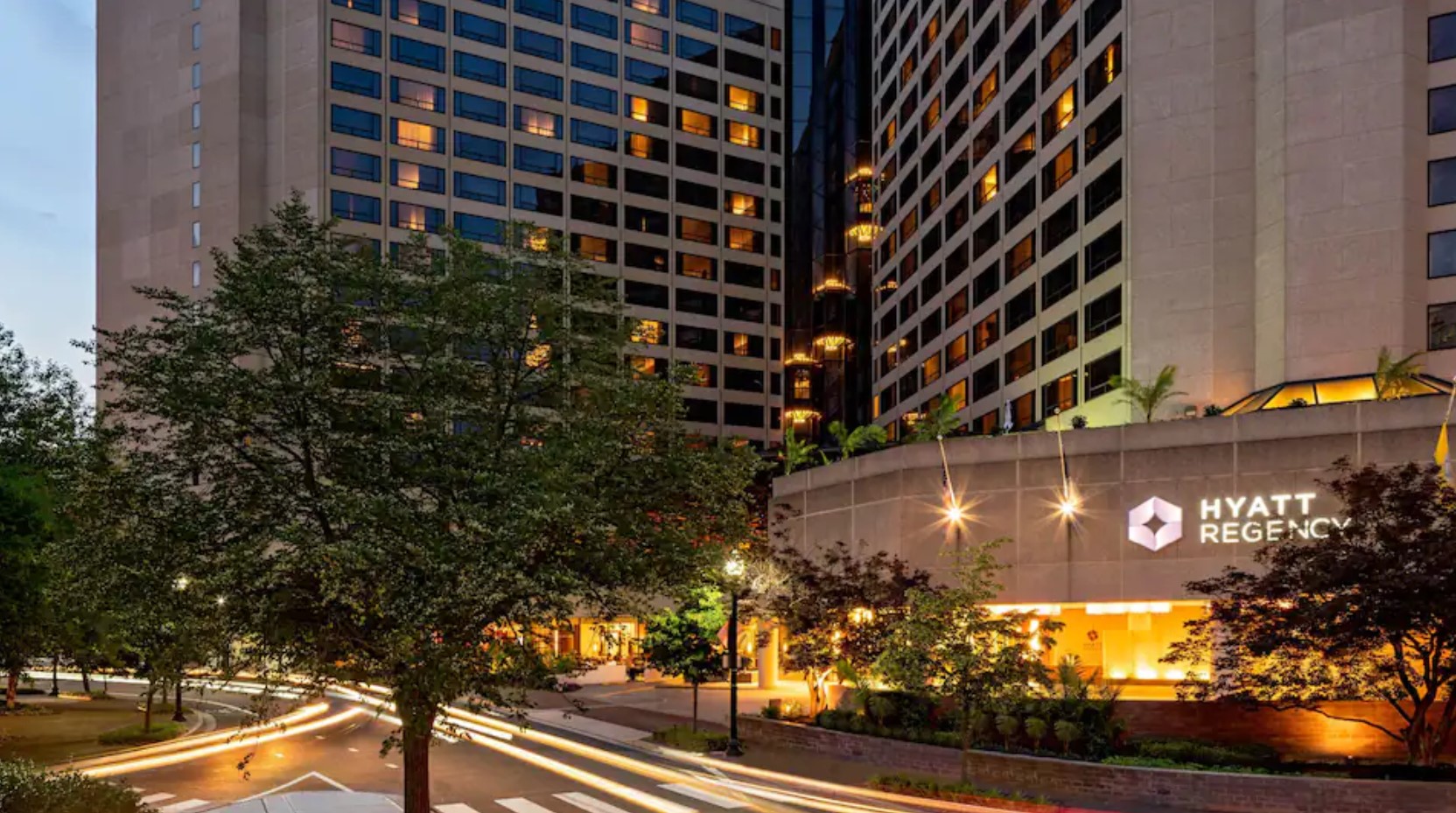 Hyatt Regency Crystal City
2799 Richmond Highway
Arlington, Virginia, USA, 22202
Tel: +1 703 418-1234
https://crystalcity.hyatt.com (for general hotel information only)
Special advance registration rates of $159 per night (Single or Double) can be obtained before July 12, 2022.

Booking Website: https://www.hyatt.com/en-US/group-booking/WASRC/G-4V5Y

Valet Parking
$45.00 /Daily

Transportation
Courtesy Hyatt Airport Shuttlee to/from Reagan National Airport
Courtesy Hyatt Airport Shuttle departs the hotel every 20 minutes from 4:20am – 12:40am.
Shuttle picks up at A Terminal outside the main doors, and B & C Terminals outside of Doors 4 and 7 on the baggage claim level. Follow signs for Hotel Shuttle Pickup. Use the Track My Shuttle website to know when the shuttle will be arriving.
Uber/Lyft/ALTO from Dulles International Airport
Washington Dulles International Airport has a dedicated pick up curb for Uber, Lyft and ALTO:
The curb is located on the ground level outside of Baggage Claim, accessible via Doors 2, 4 or 6
Numbered zones make finding your ride easy
Customers will be notified of their pickup location through in-app messaging
Taxis
From Dulles International Airport to the hotel, cost is approximately $40 to $45.
From Baltimore Washington International Airport to the hotel, cost is approximately $65 to $70.
Metro Subway Access
The hotel is a 10-minute walk from the Crystal City Metro Station (corner of 18th St and S. Bell St). Take the Blue or Yellow lines to reach the station.
The preliminary technical program will be posted here when available: https://envirosymposium.group/meeting/2022/techprog.php.
The 2022 Environmental Measurement Symposium will be held at the Hyatt Regency in Crystal City, Virginia.
Information about registration fees will be posted here when available.
Optional Training Course: Understanding Microbiology Training Series, Part 1: Introduction to Microbiological Testing
Date and Time
: Friday, August 5, 2022; 9:00 am - 12:00 pm
Fee
: $95 (Early Bird Pricing)
Understanding Microbiology Training Series Summary
This series will focus on microbiological testing of environmental samples. The series will not train to the TNI Standard, but rather will cover basic and advanced microbiological principals and how to implement requirements of Volume 1 Module 5 of the 2016 TNI Standard. The courses in this series will cover an (1) introduction to microbiological testing as well as testing techniques, (2) quality control, equipment/instrumentation verification, and media reagent preparation, and (3) in-depth information on microbiological methods and technologies. Analysts and assessors seeking to expand their knowledge beyond the Standard can do so by learning in-depth information on microbiological testing.
Part 1: Introduction to Microbiological Testing
This first course will provide participants with a general understanding of microbiological testing, techniques, method scopes and limitations, QC and technologies.
Topics addressed will include:
Microbiological Analytes
Microbiological Sample Integrity
Microbiological Lingo
Microbiological Positive And Negative Controls
Basic Microbiological Techniques Such As Serial Dilutions, Sterilization and Aseptic Technique
Microbiological Test Methods Across Multiple Programs
Microbiological Technologies and Associated Methods
The Poster Session will be presented on-site August 1-5, 2022.
Tuesday, August 2, 2022; 3:30 - 5:00 pm
For the ninth year in a row, we are pleased to provide an opportunity for up to twelve (12) organizations to showcase innovative new technologies. Each organization will have 5 minutes to describe their product or service.
Click here
for more information.